Smart Picker Pro: the Desktop Application
Download Free Trial »
Smart Picker Pro is the ideal companion which will help you to prioritize quickly your alternatives, choose the best option and justify easily your decision! Smart-Picker enables a decision maker to address Ranking problems (Prioritize your different options from the best to the worst) and Sorting problems (Assign every option into a predefined group from a hierarchy). Furthermore, use this desktop application when you have to bring data from other systems like excel or a data-base. Just copy-paste your data in the application !
Solve your decision problem in 4 steps:
1. Define the criteria.
2. Evaluate the options.
3. Weight your criteria.
4. Visualise the results.
Included Features on demand:
Ranking: Scores and Visualizations
Sorting: Classification and Visualizations
Absolute and Relative Comparisons
Descriptive Statistical analysis (including box plots, etc.)
Sensitivity Analysis
Walking Weights
Stability Intervals
Performance Variation
Weight Elicitation
Improvement Analysis
Automatic Reporting and Export (different format supported: pdf, csv, etc.)
Step-by-Step Wizard
Filtering of alternatives
Re-ordering of alternatives
Copy-Paste from Microsoft Excel
Additional Features on demand:
Import - Export to Databases (SQL, mySQL, Oracle, etc.)
Constraint Optimization
Tailor made reporting
...
Pricing
Free Trial

Personal user / Student

Academic

Corporate

single

site

single

site

Time limit
unlimited
unlimited
unlimited
unlimited
unlimited
unlimited
Users
1
1
1
unlimited
1
10
Criteria
4
unlimited
unlimited
unlimited
unlimited
unlimited
Actions
5
unlimited
unlimited
unlimited
unlimited
unlimited
Support
Free minor updates
Customize *
Commercial Licence **
Price ***
free
49 €
190 €
1,900 €
490 €
2,490 €

Download




or Contact us




or Contact us




or Contact us




or Contact us




or Contact us

* customization of the software to meet specific needs can be studied with our development team. Contact us.
** Commercial Licence means that you can use Smart Picker Pro for commercial purposes such as consultancy, etc.
*** one-time payment ; VAT excl.
Tutorial Video
Follow a short guide from our specialist
(Better to watch it in full screen and HD)
iPhone App: Smart Picker a powerful yet simple app to help you make decisions everywhere.
Smart Picker is a "Decision Aid" app. It will help you in your decision making process. It will assist you in prioritizing your choices, choosing the best options, understanding better the alternatives, and justifying your decisions.
To understand better what we are talking about, try the pre-loaded decision projects.
The "Multi-Criteria Decision Aid" algorithm used by Smart Picker (Prométhée) is used by professionals for taking their decisions. It is a professional application, available to you for free in the palm of your hand. Whether you're choosing a new car, a supplier, a house, a trip, or assessing different strategies, Smart Picker can help with any choice. It even shows you in real-time how the results of your decision are affected by changes in the importance you give to each criterion. App is free and can be used freely, but to unlock the saving feature, you will have to buy a cheap in-app purchase.
What's New in Version 1.1
compatible with iOS6, iPhone 5
Ads removed
In-app purchase for unlocking saving feature
Minor bug fixes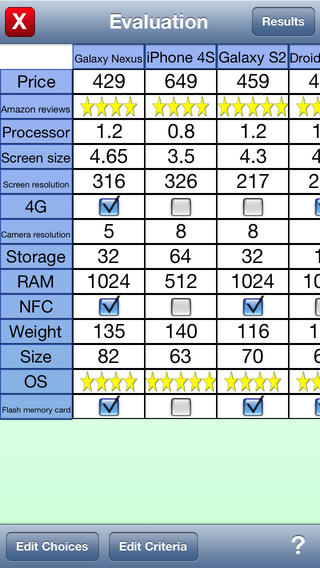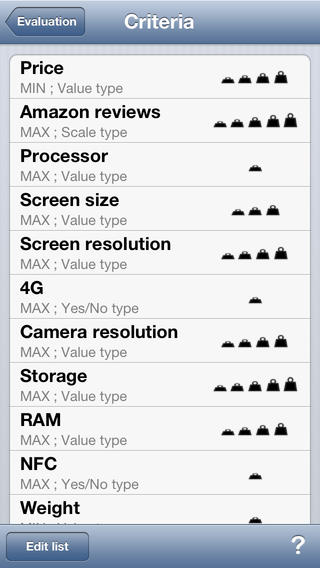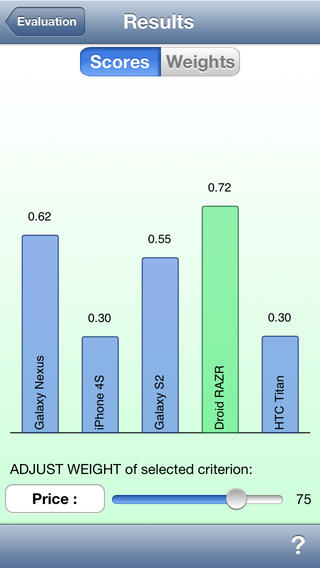 English